On Saturday morning, Ida was moving away from Cuba and into the Gulf of Mexico, where it is expected to intensify over the next 24 to 36 hours prior to landfall across the Louisiana coast on Sunday afternoon or evening. Recent satellite imagery showed the storm is becoming better organised.
The storm is expected to make landfall on the exact date Hurricane Katrina devastated a large swath of the Gulf Coast 16 years earlier. But whereas Katrina was a Category 3 when it made landfall southwest of New Orleans, Ida is expected to reach an extremely dangerous Category 4 hurricane, with top winds of 225 km/h before making landfall likely west of New Orleans late Sunday.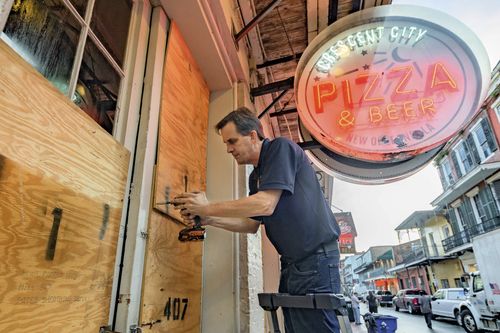 "Ida is expected to be an extremely dangerous major hurricane when it approaches the northern Gulf Coast on Sunday," National Hurricane Centre forecasters said Saturday morning.
A dangerous storm surge of 3m-5m is expected from Morgan City, Louisiana, to the mouth of the Mississippi River on Sunday as Ida makes landfall, the NHC said.
The storm surge, coupled with winds as strong as 241 km/h, could leave some parts of southeast Louisiana "uninhabitable for weeks or months," according the to the latest hurricane statement from the National Weather Service in New Orleans.
The statement warned of "structural damage to buildings, with many washing away" as well as winds that could bring "widespread power and communication outages." Flooding rains could cause "numerous road and bridge closures with some weakened or washed out" along with "some structures becoming uninhabitable or washed away."